Quaker Barns
Quaker Barns will give you extra style and much more head-room if you choose this unique looking shed. Whether you need more height to fit in something tall, or you wish to add a second floor to your garage, the Quaker Barn can be the right choice of Fair Dinkum Shed.
Make a statement with the Quaker Barn. If it's style you are after, the Quaker Barn might be just what you're looking for. It boasts wide, open space and unquestionable style.
Quaker Barns start at a width of 6m and are supplied in either vertical or horizontal cladding.
These unique designs make the most of upstairs space making them a practical solution for that holiday block, studio apartment or alternative living arrangement. These are also widely used as double garages with massive storage capacity.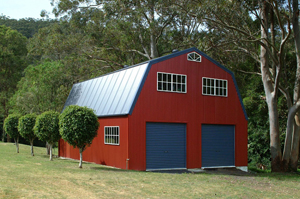 Large Industrial Quaker Barn
High Gable end walls allow for the use of tall roller doors in the gable part of the building providing easy access for your truck, boat, horse float or even caravan.
The addition of a lean-to provides extra parking space or somewhere to keep the wood dry.
Colours can be mixed and matched with the use of Colorbond steel.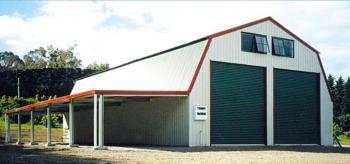 Quaker Barn with Annex
Second level can be used as an additional bedroom or rumpus room to get those pesky kids out of the house.
Under cover access means no more getting wet whilst trying to find your keys.
Windows can be configured for upstairs with ease.