Farm sheds are essential structures for storing equipment, supplies, and produce on farms. However, they don't have to be ordinary, utilitarian buildings. In recent years, farmers and architects have collaborated to create unique and remarkable farm sheds that are functional and visually stunning. Here are ten remarkable and unique farm shed designs that demonstrate the creative possibilities of this agricultural structure.
The Modern Farm Shed
The modern farm shed design is all about simplicity and functionality. This shed style features clean lines and minimalist architecture that complements the surrounding landscape. The roof and natural wood panelling make the shed look elegant and timeless. On the other hand, the spacious and open interior allows for easy storage of equipment and other supplies.
One of the primary benefits of a modern farm shed is its versatility. With such a flexible design, this shed can be used for a variety of purposes. From storing farm equipment and providing additional workspace for personal projects to even offering a space to live, this shed is one of the best choices to make. The fairly simple design of this shed provides the freedom to customise it to fit all types of needs.
Another benefit of getting a modern farm shed is its low maintenance requirements. The modern design of the roof and the sturdiness of the natural wood panelling makes the shed quite durable and weather resistant. This feature makes these types of sheds quite cost-effective and a practical solution for people who wish to have a functional yet visually appealing farm shed.
The Barn-Inspired Shed
The barn-inspired shed design draws inspiration from traditional barns and farmhouses. These farm sheds come with a classic gambrel roof and red paint. This design provides a perfect blend of traditional and contemporary elements. This particular structure makes it an excellent option for people who are looking for a stylish yet functional farm shed.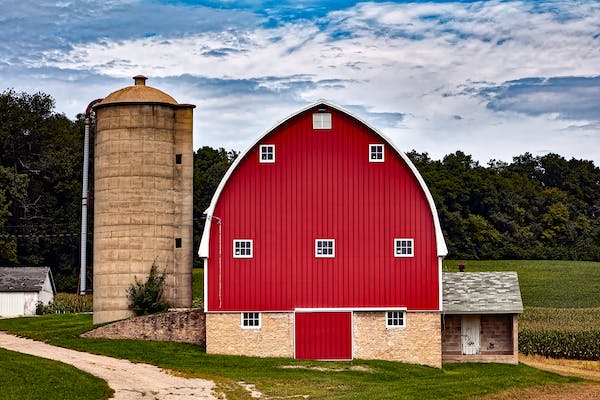 The barn-inspired shed design is highly versatile. The gambrel style of roofing provides extra storage space, making it an ideal choice of farm shed for storing hay, equipment, and other supplies. This design is also highly customisable, so you can always add windows, doors, and other features to suit their specific needs.
One of the primary benefits of the barn-inspired shed design is its durability. The gambrel roof provides excellent protection against external damage from the elements. Similarly, the classic red paint provides an aesthetically pleasing farm shed that is also highly resistant to extreme weather conditions. This is why this shed style is a great investment for people who are looking for a structure that will last for many years to come.
The Recycled Shed
The recycled shed design is a unique and eco-friendly option for people who wish to reduce their environmental impact without compromising the functionality and practicality of their farm shed. This design is primarily made from recycled materials. These materials can include old shipping containers, reclaimed wood, or even salvaged sheets of metal.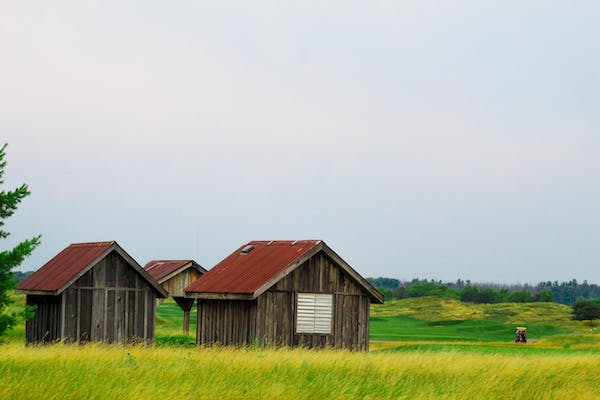 One of the primary benefits of the recycled shed design is its sustainability. This design reduces waste and promotes a circular economy by repurposing materials that would otherwise end up in a landfill. Using recycled materials to build the farm shed also makes the structure highly durable and resistant to the elements.
Another advantage of this shed design is its flexibility. Using different types of recyclable materials such as shipping containers and salvaged metals provides the owners with the freedom to customise. The wide variety of customisation options that comes along with this shed style makes it possible for people to create a structure that suits their specific needs and preferences.
In addition to these features, this shed design also offers a unique aesthetic appeal. The combination of different materials and textures creates an industrial look that complements the surrounding landscape. It allows the owners to match their shed with the overall aesthetic appeal of their property.
The Rustic Shed
A rustic shed is a simple yet functional structure. It is typically made from natural materials such as wood and stone followed by a weathered and aged appearance. These structures have been a staple of rural life for centuries. They provide storage space for tools, equipment, and other supplies. Along with this, they also provide shelter for livestock and crops.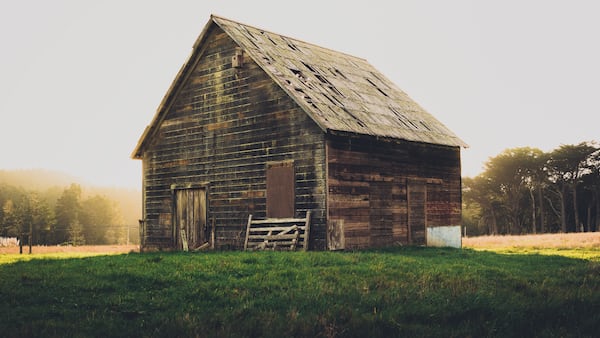 One of the defining features of a rustic shed is its focus on functionality over aesthetics. The natural materials used to build this type of shed gives the structure a timeless and earthy feel that blends well with the surroundings. The rough-hewn wood and stone give the shed a sense of durability, making it well-suited for withstanding the elements.
These rustically charming farm sheds can be used for a variety of purposes. They can be used for gardening, storage, or even as a cosy retreat for relaxation. Along with their practical uses, these sheds are highly valued for their aesthetic appeal. They add a hint of rural charm to their surroundings and are a perfect subject for artists such as photographers. People wanting a natural and peaceful environment in their backyard can go for this type of shed.
The Sustainable Shed
A sustainable shed is a structure that has been designed and built with environmental considerations in mind. These sheds are constructed using eco-friendly materials and methods. They are carefully designed to have minimal impact on the environment while providing a functional space for a variety of purposes.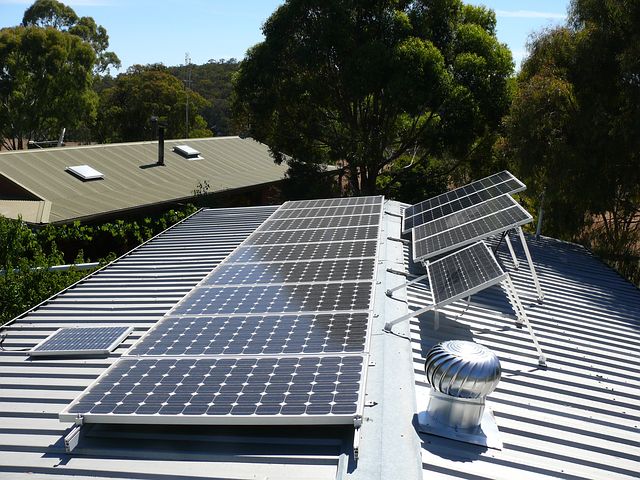 One of the key features of a sustainable shed is the use of renewable and recyclable materials. These include sustainably harvested wood, bamboo, recycled metal, and reclaimed materials. Along with this, sustainable sheds are also designed to be energy-efficient. They come with several features such as solar panels, insulation, and efficient lighting and heating systems.
Sustainable sheds are made in a way that they minimise waste and pollution during their construction and usage. They are carefully designed and built with efficient building practices so as to lessen wastage. They also require minimal maintenance and repairs over their lifespan, making them a cost-effective option.
Along with their eco-friendly features, sustainable sheds are also versatile and adaptable. They can be used as a home office, workshop, or space for additional storage. They also come with the freedom to customise so as to make them suit the needs and preferences of the owner. They can be given additional features such as windows, skylights, and shelving.
The Quonset Hut
Originally developed during World War II, the Quonset hut is a distinctive type of prefabricated and arched metal shed-like structure. The versatility and durability of these structures made them quite a popular choice. It is known for its wide variety of applications, including storage, workshops, and even as living spaces. Along with this, it can also be customised to suit a variety of needs, with options such as insulation, windows, and doors.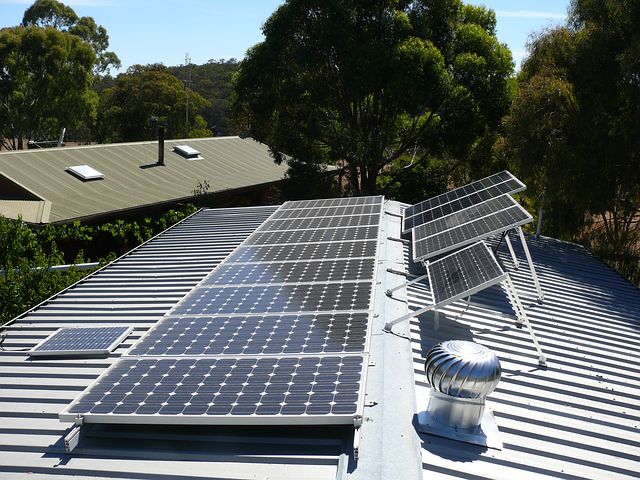 One of the defining features of the Quonset hut is its unique arched design. This arch provides the entire structure with immense strength and stability. This eventually minimises the need for internal support. These huts are made from corrugated steel panels that are curved into a characteristic semicircular shape. These panels are quite easy to assemble on-site by using simple tools and can be done with the help of just a few people.
In comparison to other traditional alternatives, this type of farm shed has a lot more advantages to offer. Since these sheds are highly durable and can withstand extreme weather conditions, they are the most popular choice for military and industrial applications. They are well-suited for off-grid living because they can be powered by solar panels or other alternative energy sources.
The Geodesic Dome
In recent years, the Geodesic Dome style farm sheds have gained popularity because of their unique and innovative structure. The design typically includes a series of triangular panels that are connected to create a spherical shape. The dome design of this farm shed allows for a larger interior space. This design also helps distribute weight evenly, making it highly resistant to heavy snow loads and wind gusts. This is why this type of farm shed is an ideal choice for areas that experience harsh weather conditions.
Along with durability, another benefit of the Geodesic Dome style farm shed is its versatility. It can be used for a variety of purposes. For example, it can be used as a greenhouse or a storage shed. It can also be used as an animal shelter or even a living space. Its unique design also allows for the efficient use of materials which makes it an eco-friendly option.
In addition to its various practical applications, the Geodesic Dome style farm shed also offers aesthetic appeal. Its distinctive shape is eye-catching. It adds a certain level of modern touch to any farm or rural property. The use of natural materials, such as wood or bamboo, can further enhance its visual appeal.
The Scandinavian Shed
The Scandinavian Shed comes with a unique architectural design. It is a simple yet stylish structure that is designed to blend in with the natural surroundings without compromising its ability to provide a functional space for a variety of uses.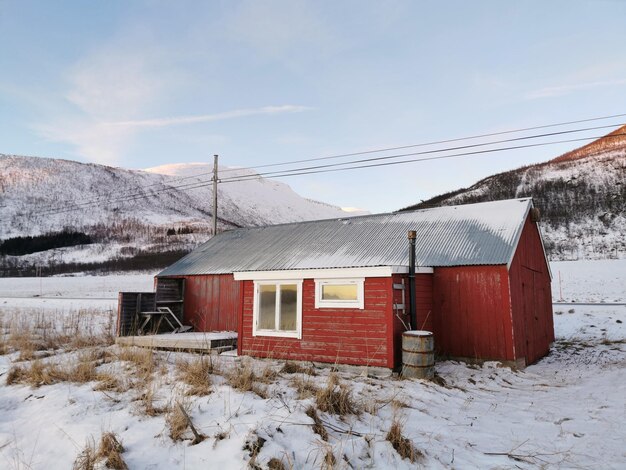 This farm shed style is characterised by its clean lines, natural materials, and minimalistic design. It is typically made of wood and features a pitched roof. It also includes large windows that allow natural light to come in. The shed is usually painted in solid or neutral colours to give it a modern and minimalist look. The most common colours used for Scandinavian Sheds are red, white, and grey.
The primary advantage of this farm shed style is its versatility. This shed can be used as a home office, a studio, or a guesthouse. The shed's simple design allows it to be customised and adapted to suit the owner's specific needs and preferences. It can also be used as a garden shed or even a sauna. Another advantage of this farm shed is that it is energy efficient. Since it uses natural materials and large windows, it utilises natural light and ventilation. This reduces the need for artificial lighting and heating, thus reducing energy bills. This makes the shed an eco-friendly and sustainable option.
The Farmhouse Shed
Typically, a farmhouse shed is a small outdoor building. It is usually found on rural properties and is considered a popular addition to farmhouses and country homes. It is so because they provide an extended space that can be used for storage and other purposes. This type of farm shed often comes with a simple and rustic design that somewhat matches the traditional aesthetic of farmhouse architecture.
Farmhouse Sheds can be used to store gardening tools, farm equipment, or firewood. They can also be used as a workspace, studio, or even as a playhouse for children. Since these sheds support sustainable living, they have become a popular choice among people looking to build a chicken coop, greenhouse, or storage space for harvested fruits and vegetables.
Another benefit of going for a farmhouse shed is the freedom to customise. One can conveniently tailor these sheds to suit their specific needs and tastes. They can also be made to match the overall aesthetics of the property by painting or staining them with the same colour scheme. They can also be decorated with elements such as window boxes or shutters. Along with this, the material used to build them can vary depending on personal preferences and the intended use of the shed. Popular materials include wood, metal, and vinyl. If you are looking for a durable shed with a rustic look, go for wood. On the other hand, if you prefer materials that require low maintenance, go for metal or vinyl.
The Glass Shed
When it comes to comparison with traditional farm sheds, a glass farm shed provides a much more modern take. Instead of being made of traditional materials like wood or metal, the walls and roof of such a farm shed are made of glass. This feature allows for a lot of natural light to come in. This creates a very bright and airy space inside the shed.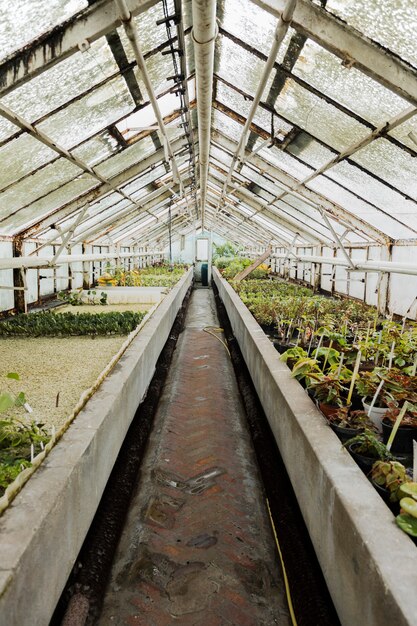 Glass farm sheds have several advantages over traditional sheds. The use of glass provides a clear view of the surrounding landscape. This allows the users to enjoy the natural beauty of their surroundings while working or relaxing inside. The natural light entering the shed also reduces the need for artificial lighting. This factor contributes towards lesser energy bills for the owner, making glass sheds an energy-efficient option.
The design of a glass farm shed is often minimalist and sleek. It comes with clean lines and a contemporary feel. If someone is looking to add a modern touch to their rural property, he/she should definitely consider going for a glass shed. The use of glass also creates a striking contrast with the traditional farmhouse architecture.
However, there are some potential drawbacks to getting a glass farm shed. The extensive use of glass can make the shed more vulnerable to damage from external elements. Extreme weather conditions such as hail or heavy winds can break through the walls and roofs, thus damaging the material stored as well. Due to the cost of materials and installation, it can also be more expensive to construct than a traditional shed.
In conclusion, the 10 farm shed designs highlighted above showcase the wide range of options available to homeowners and farmers. From the classic red barn style to the futuristic and eco-friendly designs, each design has its own unique features. They are not only functional but also aesthetically pleasing. Along with providing an extended space, they also add to the overall charm of the property. When it comes to choosing which farm shed style suits you the best, consider the design that reflects your needs and preferences the most without compromising on the functionality or beauty of the property. Even when the possibilities are endless, yet with the right design and materials, you can get a farm shed that makes a stunning and valuable addition to your property.
If you are looking for a remarkable and unique farm shed, look no further than Outside Garages and Sheds. Our variety of different farm shed styles is a testament to the versatility and creativity of modern architecture. From traditional wooden structures to contemporary modern farm sheds, we aim to cater to suit every taste and purpose. With our multipurpose farm sheds, you can now not just store tools and equipment but also use the shed as a workspace, recreational area, or even as living quarters. So don't wait anymore and get in touch with us to get started!